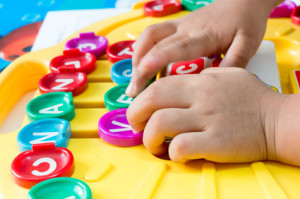 Generally, Infants and toddlers develop certain skills in a somewhat predictable way. At about 8 months of age we see an infant start to pull up on the edge of the couch or coffee table or a parent's knee. This is normal development. Some 8 or 9 month olds do this fairly independently, while others may need an extra "pull" or "boost" to accomplish their intended goal. This pull or boost is facilitation. Facilitation can be defined as making an objective easier to master. Some infants and toddlers need a little facilitation and others need more. Young children with various disorders rely on extensive facilitation to gain many skills.
Though parents and caregivers may not intentionally set out to teach language skills, they actually facilitate language acquisition by their behaviors (Owens, 1992). During the first two years of a child's life parents and caregivers have many opportunities to label and talk about objects, feelings and activities. Additionally, there are constant chances to respond to a child's communication attempts and talk with a child about ongoing experiences. It is fascinating to discover how many skills we are naturally designed to teach as a part of the parent-child relationship! In his textbook book, Language Development. , Owens describes many facilitation strategies that typically occur unconsciously between young children and their parents and caregivers.
Modeling: Parents model words for their children in context, and once they can approximate the word, we up the expectation that they supply the word in context. For example, a parent blows a bubble and labels it. The child says, "bu". So the parent blows another bubble and asks, "what is it?" and waits to see if the child says "bu". As the child is able to do this, a parent adds a higher expectation, such as "bu-bu" (which would be modeled by the parent as "bubble"). Caregivers and parents typically increase the expectation as the child gains skills, while at the same time, modifications are made to assist in language learning. Though it may be an unconscious action by the parent, research has shown that modifications are made based on the child's attempts and perceived comprehension (Yoder & Kaiser, 1989).
Prompting: Prompting would include any caregiver or parental behaviors that elicit a response: Such as fill-ins (This is a _______) or questions, (where's Daddy?).
Expansion: This refers to a caregiver or parent modeling a more correct version of a child's utterance. For example, if a child says, "Doggy bark car", the parent might say, "The dog barked at the car." According to research, children often perceive an expansion as a cue to imitate (Scherer & Olswang, 1984)
Extension: This refers to parent or caregiver comments which are semantically related to a child established topic, providing additional information. For example if the child says, "Kitty eat", the parent might say, "The Kitten is hungry". Maternal extension of utterances may correlate with changes in the child's length of utterance (Dale, 2014).
Pediatric speech/Language pathologists consciously use language facilitation strategies to help children become more effective communicators. The appropriate strategies are determined by the developmental level and particular needs of the child. A pediatric speech pathologist begins the treatment process with a thorough evaluation, which frequently includes standardized tools, parent information, and observation. After an analysis of the assessment results, a treatment plan is developed that reflects the specific needs of the child. So the strategies used in treatment would vary based on the child's treatment goals.
In addition to the strategies already presented, there are many others that speech therapists use in treatment and parent training, for example:
Indirect Correction: The adult mirrors back the phrase using correct pronunciation, grammar and sentence structure without actually pointing out the error(s).
"I jump bigger on the tapoline" would get the response, "Oh, you jumped higher on the trampoline."
Open-Ended Questions: These kinds of questions encourage longer responses and allow a child to share more ideas and information. Examples would be, "What do you think?", "What did you do at Grandma's house?", "I wonder what the puppy will do next."
Follow the Child's lead: Respond with interest to any action, play, language or conversation that a child initiates. An example would be a child rolling a toy car on the floor and verbalizing "ruum, ruum, ruum!". A parent would respond by pushing a car along side imitating the child's sounds and adding "Our cars are fast!"
Speech Pathologists are in a unique position to help children with speech and language development because of their extensive specialized training. Understanding speech and language development is key to evaluating a child's strengths and weaknesses and for targeting the right goals for that child's specific needs. Understanding speech and language development and disorders also insures that the correct strategies are implemented in treatment. Pediatric therapy is a team effort. Evidence based practices have identified the importance of parents and caregivers "co-treating" across all typical settings to insure the best progress for a child. So parent training is an important part of the treatment process. As it can be seen from these strategies, families can implement these techniques at home and in the community. A visit to the park or to the library are perfect opportunities to use any of these strategies. Becoming more aware of the ways they can help their children with language empowers families to help tremendously in the treatment process.
Language Facilitation happens naturally and with planning. Families and Speech therapists can work together to greatly increase the intentionality and quality of that facilitation. Speech & Occupational Therapy of North Texas is committed to parent training. For families in Frisco speech therapy is available at our Frisco Clinic location. For families in McKinney speech therapy is now available at our new North McKinney location. For families in Murphy speech therapy is provided at our East Plano clinic. We are happy to answer any questions you might have about language development at no charge. We also provide free language screenings when appropriate.
Great resource articles for parents on Language Facilitation:
http://vkc.mc.vanderbilt.edu/yoder/mccathren-r-yoder-p-j–2.pdf
http://jslhr.pubs.asha.org/article.aspx?articleid=1778917
http://www.researchgate.net/publication/249834462_Parent-Child_Book_Reading_as_an_Intervention_Technique_for_Young_Children_with_Language_Delays
http://www.igdi.ku.edu/interventions/Promoting_Communication_rev3-19-09.pdf
http://nceln.fpg.unc.edu/sites/nceln.fpg.unc.edu/files/resources/Language Facilitation Strategies.pdf