Well, exciting things are happening at our McKinney location!  Speech & Occupational Therapy on North Texas has three great pediatric speech pathologists in McKinney along with a wonderful pediatric occupational therapist.  We are located just west of Ridge on Virginia, accessible to many neighborhoods.
By training, experience, and passion, our therapists specialize in all aspects of communication development, fine motor skills, functional living skills and sensory integration – depending on their licensure.
According to the American Speech-Language-Hearing Association (ASHA), nearly one in 12 children ages 3–17 has had a disorder related to voice, speech, and language or swallowing.    And an article from the American Academy of Family Physicians (AAFP) reported approximately 6 % of school-aged children have coordination problems serious enough to interfere with academic performance and social integration.  To put this in perspective, based on McKinney's 2015 estimated population of 162,898, there are approximately 1200 children 5 years and younger with a disorder requiring the expertise of a speech-language pathologist and at least 100 in need of the services of an occupational therapist (the OT estimate probably doesn't include children with sensory integration challenges.
We love to help children overcome these challenges in fun and creative ways!  Children learn and retain skills best when engaged in high interest activities.  Positive relationships with a teacher or therapist also foster better outcomes.  Quoting an article by Webster and Stratton (1999), "All children grow and thrive in the context of close and dependable relationships that provide love and nurturance, security, and responsive interactions".   At Speech & Occupational Therapy on North Texas, pediatric speech therapists and occupational therapists truly care about each child and strive to build positive relationships to facilitate the most growth in skills.  Our therapists are skilled at integrating goals into play based treatment.  So each child feels cared for and has fun in the therapy process!

 About our McKinney speech therapists and occupational therapist: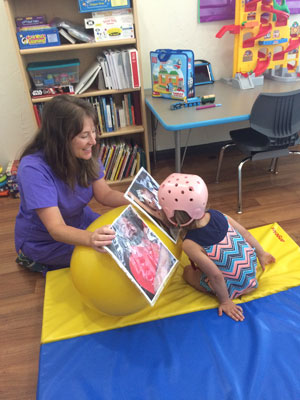 Julie Bell, MS, CCC/SLP graduated from Northern Illinois University with a Master's degree in Communication Disorders and immediately began working with preschoolers in the early intervention setting as well as hospital setting (both in the NICU and outpatient).  Julie also worked for school districts in Pennsylvania and Delaware, gaining 16 years of incredible experience with a wide array of children with speech-language disorders.  After taking some time off to be with her daughter, she joined the staff of Speech & Occupational Therapy of North Texas at our McKinney location. She loves working with children of all ages and has experience with a variety of diagnoses in the areas of articulation, language, feeding, voice and fluency.  Julie is also gifted with children with Down syndrome, traumatic brain injury, and autism spectrum disorders.  It is a joy to watch her in action!  Her clients love her!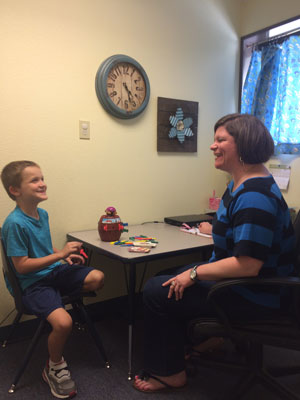 Lauri Hoffman, MS, CCC/SLP completed her Master's degree in Speech-Language Pathology from Stephen F. Austin State University and has provided treatment in the Dallas area for 17 years.  She started her career in a private practice and has treated children and adults in their homes, schools, and Head Start facilities. She also worked in the Shelton Speech and Language Clinic which, along with the school, specializes in helping children with learning differences.  She has a broad range of experience in the areas of receptive-expressive language, articulation, reading comprehension, apraxia, and autism.   She is certified in the DuBard Association Method, which utilizes structure, phonetics, and multisensory strategies to assist children with speech and language deficiencies.   She likes to tap into each child's interests and then finds creative ways to address their communication challenges. Lauri provides speech therapy in McKinney and Plano.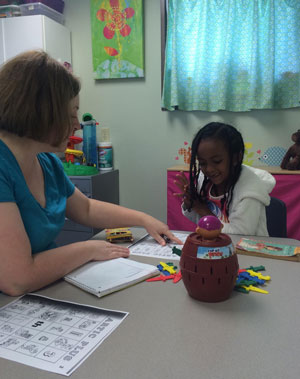 Andrea Allie, MS, CCC/SLP graduated from the University of Arkansas with a Master's Degree in Communication Disorders in the 1996.  Since moving to the Dallas/Ft. Worth area she has worked as an elementary and secondary school based SLP in Richardson and Allen ISDs.  Andrea provides speech therapy in our McKinney and Plano locations in the afternoons.   She has a broad range of experience with various language difficulties, dysfluencies, articulation and pragmatic/social language weaknesses.  Andrea is always warm and positive with her clients, providing just the right environment for progress.
Calli Liamis OTR graduated from the University of Houston with a Bachelors in Human Health and received a Master's in Occupational Therapy from the University of Texas Medical Branch.  Having completed field work in various specialties (spinal cord, inpatient rehab, and outpatient pediatric) she found treating and assisting children the most enjoyable.  If you ever see Calli with a child, you will know they are both having a great time!   Calli has experience working with Down syndrome, cerebral palsy, autism spectrum disorder, and developmental delay. She is certified in Handwriting Without Tears and is also SIPT certified (Sensory Integration and Praxis Test).   She finds the SIPT invaluable when evaluating and treating children with sensory integration disorders.   Calli has gained most of her experience in the private practice setting and loves working at Speech & Occupational Therapy of North Texas.  She provides occupational therapy in McKinney and Frisco.
Speech & Occupational Therapy of North Texas always encourages family involvement because we want families to see what we are doing and we want toprovide them support, answer questions, and assist in generalizing skills in all many settings families enjoy.
If you would like to learn more about our McKinney speech and occupational therapy services, please call our office at 972-424-0148.
For more information about speech and occupational therapy or McKinney demographics visit:
http://csefel.vanderbilt.edu/modules/module1/handout5.pdf
http://leader.pubs.asha.org/article.aspx?articleid=2423605
http://www.aafp.org/afp/2002/1015/p1435.html