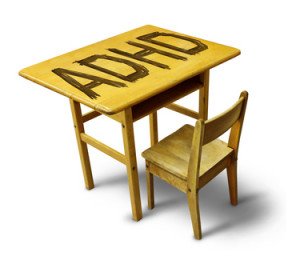 ADHD Concept for hyperactivity disorder and attention deficit behavior as a school desk with the letters carved into the wooden table as a healthcare symbol for childhood mental health issues.
Have you ever wondered if your child might have Attention Deficit Hyperactivity Disorder (ADHD)? Perhaps a teacher or a friend has noted symptoms- like an inability to attend or listed, difficulty staying in their seat or waiting their turn. Or perhaps you have noticed your child loses things easily and forgets their homework frequently. A few of these signs may be normal, but it is always wise to rule out more significant, on-going challenges and get help early for your child's sake.
It is often difficult to diagnose ADHD because it has symptoms that are identified with several other problems, such as depression, learning disabilities and anxiety. A qualified specialist, such as a clinical psychologist or neuropsychologist, would determine the diagnosis based on multiple factors. Though many of the characteristics of ADHD are normal at young ages, children, adolescents and adults with ADHD have behaviors from three key categories: inattention, hyperactivity, and impulsivity. These combined characteristics are typically more severe and chronic than typically observed in normal development and must persist for at least 6 months to meet the criteria for this diagnosis.
The most recent American Psychiatric Association's Diagnostic and Statistical Manual, (DSM-5) provides criteria used by mental health professionals to aid in diagnosing ADHD. These include: 9 inattentive symptoms, 9 hyperactive-impulsive symptoms, number of symptoms required, and the duration of symptoms, age of onset, multiple settings requirement, and clinically significant impairment. To learn more detailed information about DSM-5 criteria, visit http://www.helpforadd.com/2013/june.htm
The Center for Disease Control and Prevention (CDC) has developed the following checklist to aid families in determining if their child might meet the criteria for ADHD. This is not a tool for diagnosing however it can provide valuable information to share with your pediatrician or a qualified specialist regarding your concerns and observations.
Inattention
Six or more of the following symptoms of inattention have been present for at least 6 months to a point that is inappropriate for developmental level.
Often does not give close attention to details or makes careless mistakes in schoolwork, work, or other activities.
Often has trouble keeping attention on tasks or play activities.
Often does not seem to listen when spoken to directly.
Often does not follow through on instructions and fails to finish schoolwork, chores, or duties in the workplace (loses focus, gets sidetracked).
Often has trouble organizing activities.
Often avoids, dislikes, or doesn't want to do things that take a lot of mental effort for a long period of time (such as schoolwork or homework).
Often loses things needed for tasks and activities (e.g. toys, school assignments, pencils, books, or tools).
Is often easily distracted.
Is often forgetful in daily activities.
Hyperactivity / Impulsivity
Six or more of the following symptoms of hyperactivity-impulsivity have been present for at least 6 months to an extent that is disruptive and inappropriate for developmental level.
Often fidgets with hands or feet or squirms in seat when sitting still is expected.
Often gets up from seat when remaining in seat is expected.
Often excessively runs about or climbs when and where it is not appropriate (adolescents or adults may feel very restless).
Often has trouble playing or doing leisure activities quietly.
Is often "on the go" or often acts as if "driven by a motor".
Often talks excessively.
Often blurts out answers before questions have been finished.
Often has trouble waiting one's turn.
Often interrupts or intrudes on others (e.g., butts into conversations or games).
To complete and print out a checklist visit http://www.cdc.gov/ncbddd/adhd/checklist.html
Research has found that children diagnosed with ADHD are three times more likely to have language challenges (Tirosh and Cohen, 1998). If your child has been diagnosed with ADHD, you should consider having a language evaluation. Individuals with ADHD frequently have difficulty with working memory, and executive function. Speech language pathologists can teach strategies to assist with these deficits. Some children with ADHD have expressive/receptive, and pragmatic language challenges. Speech therapists create specific goals, based on assessment, to address any language deficits. Also, programs like Interactive Metronome can help improve attention and motor coordination – other areas of weakness associated with ADHD.
Speech therapy in Frisco is available at Speech & Occupational Therapy of North Texas. We also have locations in Plano and McKinney. Please contact us to learn more about our services.
http://www.nimh.nih.gov/health/topics/attention-deficit-hyperactivity-disorder-adhd/index.shtml
Tirosh E, Cohen A. Language deficit with
attention-deficit disorder: a prevalent
comorbidity. J Child Neurol. 1998;13(10):493-497