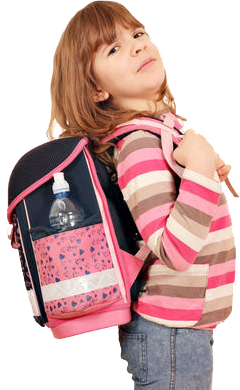 Back to school is just around the corner and parents will be buying new school supplies soon. Before purchasing those new school supplies here are some tips and ideas to consider before making final selections.
BACKPACKS:
Backpacks are a necessity for every child. Backpacks come in all shapes in sizes which can make selecting the best backpack for your child more difficult. Depending on the age and grade level of the child, some of these tips may not apply, but still continue to use your best judgment.
Straps: Look for backpacks with two sturdy straps that are adjustable and padded. As more books and items are added to the backpack, it will become heavier and can lead to lower back and shoulder pain throughout the day. Try to avoid draw string bags or across the chest bags unless it is for a quick gym change. Make sure the straps are adjustable, and the end of the backpack should rest against the lower back, NOT past or at the hips. The weight of the backpack will throw the child's center of gravity off and increase their risk of falling backwards or tripping.
TIP: According to experts, backpacks should not weigh more than 10-15% of the child's body weight. If this is the case, have the child carry a book or two in their hands. This will reduce the amount of stress on the shoulder and back and provide heavy proprioceptive input (heavy work) to their upper extremity joints.

For more information on backpacks visit:Backpack Facts
WRITING UTENSILS:
Quite simply, this is a broad word for anything that writes. This includes pencils, markers, crayons, and paintbrushes. Depending on the child's hand size, look for child size markers, crayons, and pencils. The shorter the size, the better for small hands. When small hands use regular size pencils and markers, the writing utensil becomes a weighted lever within the hand with the majority of the weight of the writing utensil at the top instead of towards the tip. This will make it harder for the child to maintain a firm tripod grasp and will substitute their grasp by using a power grasp or use their whole hand in an attempt to manipulate the writing utensil.

Tip: You can create child size crayons and pencils by cutting pencils in half and breaking crayons. This will force the child to use a tripod/quadruped grasp.
PENCIL GRIPS:
Pencil grips are not necessary but are helpful if your child will be writing for an extended amount of time and complains of muscle fatigue or pain. Certain pencil grips are great for assisting in development of the appropriate tripod/quadruped grasp and assist in facilitating an open web space within the hand. I strongly suggest speaking with your child's teacher or local school OT if a pencil grip is needed.

Tip: There are many types of pencil grips available depending on the need of the child. If your child complains of muscle pain when writing, types of mechanical pencils and pens have attached grips which may help.
Occupational Therapy, sometimes referred to as OT, is a health profession which assists individuals with motor issues, sensory integration disorders, and behavior challenges in mastering purposeful activities of daily living. Speech & Occupational Therapy of North Texas provides pediatric occupational therapy at its Plano and Frisco clinics. Find out if we can help your child by calling 972-424-0148