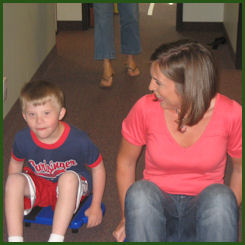 My experience as an Occupational Therapist includes working with children in the Public Schools, as well as Early Childhood Intervention Programs. Experience in these settings has given me the opportunity to address concerns with handwriting, development of both fine and gross motor milestones, activities of daily living, sensory difficulties and sensory based feeding problems. As an OT, I have addressed these concerns in children from birth to high school age. Most of my experience in pediatric therapy has been with kids who have been diagnosed with Autism, Down's Syndrome, Cerebral Palsy, and other non-diagnosed motor and sensory difficulties. I believe in giving kids the care they deserve.
Throughout my career, I have had the opportunity to share my knowledge as an OT with both parents and other professionals. I enjoy working with parents to find ways to integrate sensory and motor activities into their daily routines. While working in the public schools, I developed a training program and presented this methodology during a teacher in-service on ways to improve the sensory environment in the classroom. I enjoy the challenge of finding creative ways to develop a sensory – rich environment where children can thrive.
It is exciting to share the joy with both the child and the family as we work together to achieve our goals. After taking a short time away to start my own family, I was very eager to get back to the career I love – helping kids succeed at their highest potential.