According to current demographic information, Murphy, Texas has a population of just under 20,000, with approximately 9% being under the age of five years of age. Children age five years to fourteen years make up another 20% of Murphy's population. For more information about Murphy demographics, visit http://www.murphytx.org/index.aspx?nid=217
The NIH (National Institutes of Health, reports that 8-9% of young children have a speech-language disorder.* These disorders are most treatable with early intervention. Also according to the NIH 5% of school aged children have some kind of developmental coordination disorder.* Pediatric speech-language pathologists and occupational therapists provide treatment for these children. Based on demographics, there are many children in Murphy who would benefit from these specialized pediatric therapies.
Occupational Therapy
Pediatric Occupational Therapy, sometimes referred to as OT, is an allied health profession which assists children with skill deficits that impact daily functioning. At a foundational level, occupational therapy treatment targets improved functioning of an individual's muscular and nervous systems, strengthening the ability to independently do purposeful activities or regulate sensory input. Murphy families can access pediatric occupational therapists at Speech & Occupational Therapy of North Texas.
To initiate the treatment process, a licensed occupational therapist with extensive pediatric experience completes an evaluation that typically utilizes a thorough case history, standardized measures, observation, and parent interview. If a child qualifies for therapy, a treatment plan is developed. Measurable goals focus on the individual child's functional needs. For a child, this might include developing play skills such as climbing, swinging and riding a bike. Or treatment may target dressing skills such as buttoning and zipping, or hygiene and self help skills related to feeding, bathing and toileting. Occupational Therapists also address fine motor skills for handwriting and drawing. An OT experienced with sensory integration also evaluates and addresses sensory challenges a child may be experiencing.
In addition to treatment for motor coordination or sensory processing disorder, our Plano location has occupational therapists certified in:
Handwriting Without Tears
Interactive Metronome
Interactive Listening System with Bone Conduction
Speech Therapy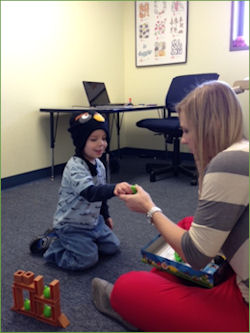 Speech Therapy, also called speech-language therapy, is an allied health specialty which addresses language and production aspects of communication. Speech and language therapy treats 5 domains; semantics, pragmatics (social use of language), syntax, morphology, and phonology. Pediatric Speech and Occupational Therapy for Murphy TexasPhonology addresses sound, with the smallest sound segment being a phoneme. Morphology refers to word formation, such as past tense or comparatives and syntax refers to sentence formation, like using the correct subject verb agreement. So these domains will seem reminiscent of studying phonics and grammar in grade school! Semantics has to do with meaning, so in a sense, vocabulary. Pragmatics relates to the social communicative aspect of language. A speech therapist, more correctly described as a speech-language pathologist, can address any of these areas.
In pediatric speech therapy, the Master's level professional with experience in the pediatric population, develops a treatment plan based on a detailed assessment. A good pediatric speech and language assessment is comprised of a thorough case history, as well as observation and standardized or criterion referenced assessment tools. A pediatric speech language pathologist typically assesses receptive and expressive language, vocabulary and articulation. Other areas of a suspected challenge may be assessed, such as oral motor weakness, feeding and swallowing, apraxia, pragmatics, disfluency, and auditory processing.
A treatment plan is assessment-driven and is comprised of measurable goals. A speech therapy session will target these goals using engaging, meaningful activities to capture the child's attention. Parent or caregiver training is an important part of pediatric speech and language therapy. Home practice is essential to generalization of new skills! Good speech and language skills are important for school and life, so it is important to give suspected weaknesses the attention they deserve!
Early intervention is important if you suspect your child has a speech or language disorder or motor/sensory challenges. As an allied health specialty, private insurance will often cover speech therapy or occupational therapy so it is a good idea to see if your policy covers evaluation and treatment. Speech & Occupational Therapy of North Texas is a network provider for many major insurance plans. We would be happy to answer any questions families might have about our services.
To learn more about Murphy, Texas and services for families visit www.murphytx.org.
* http://www.nidcd.nih.gov/health/statistics/pages/vsl.aspx
* http://www.nlm.nih.gov/medlineplus/ency/article/001533.htm
TESTIMONIAL: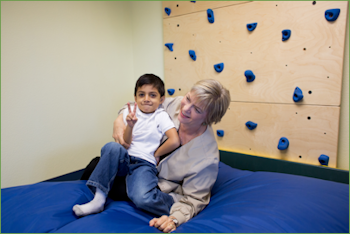 We are so grateful to Anne Bramlett and her staff for the success of our 5 year old son, Jonathan. He was diagnosed with autism about a year ago and Anne has been very helpful and patient with all of our questions regarding Jonathan's condition. He sees Anne for speech therapy and Midge for Occupational Therapy and we have seen a huge improvement in his speech and communication skills.
They use his interests to motivate him and therefore he has fun while he is learning. It is wonderful to be able to carry on a conversation with him and watch him converse with others. Before, he would get so frustrated and upset when people did not understand him that he would shut down. Now, with therapy, his behavior has also improved because he can express himself with intelligible words and multiple sentences. It was a blessing to find Speech and Occupational Therapy of North Texas because we know Jonathan will continue to improve.
Thank you Anne, Midge, and staff. Jonathan is really happy and loves you very much.
E.G.