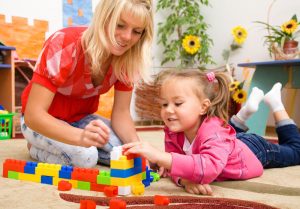 When children struggle with daily activities, there are many different options to help them progress. One of the best options is allowing children to participate in occupational therapy. This type of therapy helps children learn how to grasp concepts that they may otherwise struggle with. There are many types of therapy that fall under the umbrella of occupational therapy. Each of the types of therapy can help children progress with different tasks in their lives.
Types of Therapy Children Can Progress With
Speech therapy is one of the most common types of occupational therapy. These simple games and practices allow children to speak more clearly, and learn to express things they may need. This can include talking about how your child feels, explaining his or her needs, or even learning to ask questions to help them overcome daily challenges.
Fine motor skill therapy can also help children overcome some daily challenges. For some children, doing things like tying their shoes or buttoning a button are difficult. By going through occupational therapy, children are better able to accomplish these tasks on their own without the help of others. This type of therapy can also help children do things like writing more legibly or even using small devices, such as scissors.
Therapy for gross motor skills can also help children. Many struggle with specific tasks that require large muscle coordination. This type of therapy can help children do things like sitting up straight, walking without bumping into things, and doing activities like jumping jacks.
Many children can also benefit from strategy therapy. This teaches children how to plan out their day to get the most accomplished or to make the most logical sense. This can include helping them plan out their day at school, figure out which homework to do first, or how to make sure they accomplish a small list of chores each day in the most efficient manner.
Getting Help with Occupational Therapy
If you want to help your child get ahead, you may want to get them into occupational therapy. There are many types of skills that can improve with the repetition and projects that come with occupational therapy. No matter where your child struggles, there is something that can be done to help them gain independence and confidence. Reach out to us here at Speech & Occupational Therapy of North Texas and tell us what it is your child struggles with. We will then help you come up with a plan to help them overcome those challenges and move forward with confidence.