We are spotlighting our East Plano speech therapists this month so our community can meet our gifted therapists!  Our Plano location sits very close to the borders joining Plano to Richardson on the south and Murphy on the east.   As a result many of our clients come from the Murphy, Richardson, Garland, Allen and East Plano communities.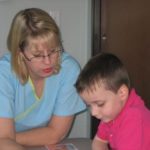 Becky Hary, MS, CCC/SLP is the owner of Speech & Occupational Therapy of North Texas, with clinic locations in Plano, Frisco, and McKinney.
While in high school Becky had the opportunity to work with a speech pathologist from her church.  As a result of the stories her mentor shared about the many children she had helped, Becky was inspired to pursue an undergraduate degree in Communication Disorders from the University of Texas at El Paso.  After completing her undergraduate studies, she worked as a resource teacher for one year in the El Paso school district.  Becky then attended the University of Texas at Dallas, Callier Center to pursue her Master's in Communication Disorders.  As a practicing speech/language pathologist, Becky worked in the Plano ISD for 11 years with preschoolers and elementary age children with various speech, language and cognitive deficits. Her case load included children with autism spectrum disorders and Down syndrome.  She gained extensive experience with articulation, fluency, receptive/expressive language and pragmatic challenges in that setting.  She has continued to expand her experience for the past 14 years with Speech & Occupational Therapy of North Texas, first as an associate and then as the clinic director.  Becky purchased the practice in 2016 and is committed to continuing the tradition of exceptional services to families and children of all levels of need.
Anne Bramlett, MS, CCC/SLP graduated from the University of Texas, Callier Center with a Master's in Communication disorders in 1996.  Anne became interested in the field of speech pathology because she has a son with autism.  Her son, Sam, who is now an adult, has always been an inspiration for her – leading her into advocacy and then a new career as a speech therapist!  Anne specializes with autism spectrum disorder as well as other intellectual and developmental disorders (IDD). These diagnoses often result in receptive/expressive/pragmatic language challenges.  Anne started Speech & Occupational Therapy on North Texas over 16 years ago.  She recently passed ownership of the business into the very capable hands of Becky Hary, MS, CCC/SLP, a long time clinic director for the practice. She is excited to see the same great quality and family focus is staying in place!  Anne currently provides speech therapy to Murphy and East Plano clients on a part time basis. She spends much of her time in disability advocacy
Jennifer Sananikone MS, CCC/SLP graduated from Texas Women's University in 1999 with a Master's degree in Communication Disorders.  She immediately began working for Plano Independent School District with the Preschool Program for Children with Disabilities (PPCD) in a classroom-based setting.  After working with preschoolers for 5 years Jennifer was given the opportunity to work with elementary-age students for 4 years.  She loves working with young children and has had experience with a variety of disorders in the areas of articulation, feeding, language, voice and fluency.  Jennifer also has extensive experience with the unique needs associated with Down syndrome, traumatic brain injury, and autism spectrum disorders.   Jennifer has been working for Speech & Occupational Therapy of North Texas during the day at our Plano location since 2012.  Her speech therapy clients love her and so do their parents!  She is creative and knows how to make treatment fun!  Jennifer continues to make a difference in the lives of her clients through providing speech therapy to Murphy, Plano, Garland and Richardson families.
Brittany Denny, MS, CCC-SLP gained exposure to the field of speech therapy as part of a work study program in high school. While working in that setting, she fell in love with speech pathology! Brittany attended Baylor University where she received both a Bachelor of Arts degree with a minor in American Sign Language and a Master of Science degree in Communication Sciences and Disorders. Brittany provided speech therapy in the Garland Independent School District for many years. She has extensive experience with preschoolers and elementary school-aged children with various speech/language disorders and cognitive deficits. Throughout her time in the school setting, she worked with classrooms that specialized in autism spectrum disorders. This setting allowed Brittany to gain significant experience in working with children with autism. She also gained experience working with students with Down syndrome through classroom settings as well.  Brittany is a gifted therapist and brings a calming presence into her treatment.  She joined our East Plano team in the summer of 2015.  Brittany feels truly blessed to work with children and families in the private practice setting, knowing she can put all of her focus on one child at a time.
Jennifer Smith – M.S. CCC/SLP  gained an interest in helping people with special needs from her mother,  who was initially an instructor of the hearing impaired and then worked as an overall special educator. From spending time in her mother's classrooms, Jennifer realized that she, too, wanted to work with people with special needs. This moved her to pursue an undergraduate degree in Communication Disorders from Texas State University – San Marcos.  After completing her bachelor's degree, she received an assistant's license in speech pathology.  Jennifer then pursued a Master's degree in Speech and Language Pathology at Stephen F Austin State University while working as a graduate assistant in the Special Education Department in the local school district. Jennifer now provides speech therapy for Plano ISD during the day. She has treated students of all ages with various speech, language and cognitive deficits, including children in need of alternative communication methods. Due to a desire to expand her experiences and have more opportunity to provide one on one speech therapy, she became a Speech Pathologist in the Richardson/Plano area location of Speech & Language Services of North Texas.  Jennifer is a creative therapist, always finding ways to reach her clients and support their families. She loves helping children of all ages become the best communicators they can be and feels through them she learns how to become a better communicator!
Lauri Hoffman, MS, CCC/SLP graduated with a Master's degree in Speech-Language Pathology from Stephen F. Austin State University and has provided treatment in the Dallas area for over 17 years.  She started her career in a private practice treating children and adults in their homes, schools, and Head Start facilities. Lauri then worked in the Shelton Speech and Language Clinic which, along with the school, specializes in helping children with learning differences.  Her focus was in the areas of receptive-expressive language, articulation, reading comprehension, apraxia, and autism.  After 8 years, she transitioned into a Language Intervention classroom helping 1st and 2nd graders with their language, articulation, and reading.  Lauri uses structure, phonetics, and multisensory strategies to assist children with speech and language deficiencies.  She now works full time for Speech & Occupational Therapy of North Texas, providing speech therapy for Murphy and Richardson clients in the Plano clinic. She loves children and helping them learn new skills.  It excites her to see their confidence build and see how this directly impacts their daily lives.  We are happy to have Lauri as a part of our Plano and McKinney clinics!
Andrea Allie, MS, CCC/SLP graduated from the University of Arkansas with a Master's Degree in Communication Disorders in the summer of 1996.  Upon moving to the Dallas/Ft. Worth area she worked as a secondary school based SLP for the Richardson ISD.   Andrea then gained experience working with geriatric patients in a long term care facility providing speech therapy for patients presenting with strokes, swallowing disorders and dementia/cognitive difficulties.  After working a rehabilitation setting, she decided that her heart was with helping children.    Andrea has provided speech therapy in Allen ISD for several year now.   Her experience encompasses expressive and receptive language difficulties, dysfluencies, articulation and pragmatic/social language weaknesses.  Andrea provides speech therapy in the Plano clinic after school, where she enjoys the one on one time with her clients and families!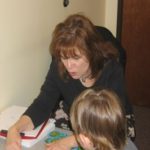 Nancy Glaze, MS, CCC/SLP received her Master's in Communication Disorders from the University of Texas at Dallas. She has been a speech/language therapist for over 30 years, with much of her experience gained in the Plano ISD.  She has been associated with Speech & Occupational Therapy of North Texas for 12 years, providing speech therapy in Murphy, Plano, and Frisco.  Nancy has tremendous experience in many areas and particularly enjoys articulation, language and social skills therapy with kindergarten through high school aged clients.  She has received additional training in Oral-Myofunctional Therapy for tongue thrust and is considered an area expert for myofunctional therapy. As a result, Nancy works closely with many local dentists and orthodontists.  She has also received training in foreign accent reduction (Institute of Language and Phonology).   taking her love of articulation and applying this to accent reduction treatment.  Nancy builds great relationships with her families and clients and finds it personally rewarding to have a part in helping individuals improve their oral/communication skills.
Speech & Occupational Therapy of North Texas exists to help children meet their potential and to provide training and support for families.  We want to be a trusted partner for our families who are searching for the best outcomes for their children.   So if you need speech therapy in the Murphy, Richardson, Garland, Allen and Plano areas, please give us a call.  Our number is 972-424-0148. We are network providers for many private insurance plans, as well as Traditional Medicaid and the Children's Health Network, a Medicaid HMO.