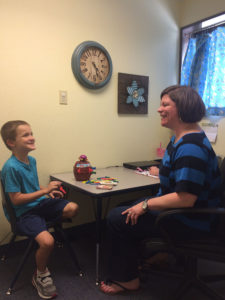 I graduated with my Master's degree in Speech-Language Pathology from Stephen F. Austin State University and have provided treatment in the Dallas area for 17 years.  I started my career in a private practice and have treated children and adults in their homes, schools, and Head Start facilities. I then worked in the Shelton Speech and Language Clinic which, along with the school, specializes in helping children with learning differences.  My focus was in the areas of receptive-expressive language, articulation, reading comprehension, apraxia, and autism.  After 8 years, I transitioned into a Language Intervention classroom and helped 1st and 2nd graders with their language, articulation, and reading.  I am certified at the therapy level in the DuBard Association Method, which utilizes structure, phonetics, and multisensory strategies to assist children with speech and language deficiencies.
I love working with children and helping them learn new skills.  It is exciting to see their confidence build and how this directly impacts their daily lives.  My goal is to create a positive, encouraging learning environment.
I am thankful to be a part of the Speech & Occupational Therapy of North Texas team.  Not only am I able to provide speech therapy in McKinney, close to my home, I have loved the opportunity to focus on each child and additionally provide support and training to families.