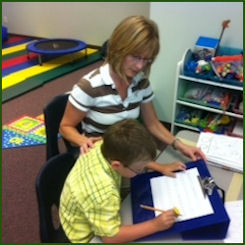 Handwriting Without Tears is a multisensory approach to teaching and remediating handwriting. This method teaches children to build their letters using a variety of tactile activities. It also incorporates a specific method of teaching children to write their letters using a developmental teaching order for both tracing and copying letters.
Handwriting Without Tears is a hands-on approach that engages the children and makes learning to write fun and successful. HWT covers Pre-K through 5th grade handwriting and teaches both print and cursive. The combination of active teaching and interactive activities make it a successful tool for teaching children to write. It is easily adaptable to all levels of writing and learning abilities and also addresses the physical approaches to writing including grip and posture.
Many occupational therapists at Speech and Occupational Therapy Services of North Texas are trained in the Handwriting Without Tears method of teaching and remediating handwriting.
Please visit www.hwtears.com for more information about Handwriting Without Tears.