There are two ways to answer this question:
When a toddler has a developmental disorder or delay, quality, appropriate early intervention, is important for future success in life. So, a pediatric speech therapist or occupational therapist is providing early childhood intervention services when they treat a child with a diagnosed disorder. A comprehensive evaluation would be completed and an individualized treatment plan would be designed for that child. Family training and support is an important part of the pediatric treatment process.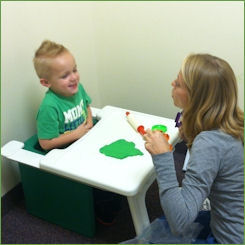 Another way to answer the question is to refer to Part C of IDEA: The Early Intervention Program for Infants and Toddlers with Disabilities. This program, frequently referred to as early childhood intervention (ECI) is a federal/state grant program providing partial funding for operating a statewide program for infants and toddlers with disabilities, ages birth until their 3rd birthday, and their families. For early childhood intervention Texas (ECI), this program falls under the umbrella of the Department of Rehabilitative Services (DARS).
A speech-language pathologist or occupational therapists, as well as other early childhood intervention specialists, can provide treatment to children under the age of three as part of the government funded program or they may treat these same children as part of a private practice, home health, or a hospital outpatient. Both services may bill private insurance or take Medicaid. The most important thing for families to consider is what will be best for their child. In some cases, private specialists are able to provide more treatment because they do not have program constraints that might exist in a government based program. If a family has insurance, it is wise to compare services before making a decision since the cost could be similar in both situations. In a nutshell, families with children under the age of three have a choice. They may want to consider private therapists for early intervention instead of following the State ECI program route. The specialists have the same training and credentials, so the choice might hinge out on where a child will get the most treatment from the most qualified professional.
Questions to ask when making a decision about services for toddlers:
Will I get a detailed evaluation report?
Will I receive training to carryover treatment goals?
How many sessions of speech or occupational therapy will my child receive each week?
Will my therapist be a fully licensed professional – or an assistant?
How soon can my child be evaluated and how soon will treatment start?
Wherever a family decides to pursue services, early childhood intervention is critical for children with disabilities or delays as well as for children from educationally or financially deprived home settings. According to research by the Rand Corporation, early intervention combats the factors that threaten child development and has the potential to alter a child's future development. Longitudinal studies have shown that detrimental consequences can be averted through early intervention. Rand research has also found children made better progress in early childhood programs where providers had higher degrees of education, where there was a small teacher/student ratio, and where services were more intensive. See http://www.rand.org/pubs/research_briefs/RB5014.html.
Additionally, The Center on the Developing Child at Harvard University shares the following information about child development research:
Neural circuits are the most flexible in the first three years of life
The brain is strengthened by positive early experiences, particularly with stable relationships with caring, responsible adults.
So obviously, Early treatment is important!
For more information about Harvard's research, visit, http://www.nectac.org/~pdfs/pubs/importanceofearlyintervention.pdf
Early Childhood Screenings Assess Five Developmental Areas
Early intervention basically strives to help a child become as functional as possible. The therapy a child receives at an early age may help that child reach developmental milestones, or lessen the impact of delay or disorder. Early intervention can help a child catch up to peers. Pediatricians typically do developmental screenings to evaluate how a child is doing during well visits. When a pediatrician or specialist is following a child with special needs, they regularly screen the following areas for development.
Speech and Language development – a child's ability to talk and communicate
Social Emotional development – a child's ability to interact, relate, and play
Physical development – a child's ability to move, see and hear
Cognitive development – a child's ability to learn and think
Adaptive development – a child's ability to perform activities of daily living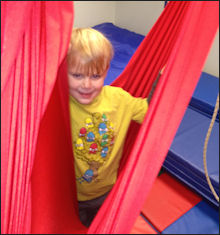 If a physician determines that a child may need treatment in all or some of the areas of development, they refer a family to the State ECI program or to another qualified professional convenient to the family. It is important to families to ask their physicians about options.
While the therapists and other specialists who work with your child are considered experts in their fields, the most important facilitators are the parents. Treatment for toddlers is typically play based because research has found this is the most effective way to work with young children. This also makes it easier for families to carry over into the home and community. When parents utilize the strategies taught in therapy at home, it facilitates the child's ability to improve. On the other hand, research has shown that when parents are not involved, therapy takes longer.
For more information about the importance of family involvement in treatment, visit:
http://www.asha.org/uploadedFiles/EBSR-Service-Delivery.pdf#search=%22ebp%22.