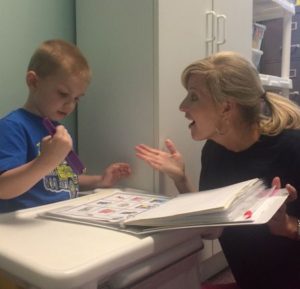 We were referred to Speech and OT by a SLP friend working in the Plano clinic.
Our son began speech therapy in the Frisco clinic a little over two years ago. After working with Jacob for a few weeks and being aware of our feeding concerns, the therapist asked if we would be open to an OT evaluation.
Jacob was evaluated and qualified for occupational therapy as well. We are extremely pleased with the progress Jacob has made at Speech and OT of North Texas. His vocabulary has exploded and he is much more confident and willing to try new things.
We have come so far! The Frisco staff is like family and we are thankful for the love and support they show not only Jacob, but our entire family.
Kim H
Frisco Speech Therapy
Frisco Occupational Therapy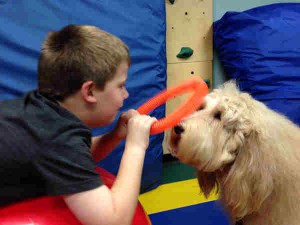 For years our son has had what the doctor called "developmental delays". During Kindergarten we learned that these delays were making it very difficult for him to succeed in school. We live overseas but decided to come back to Texas to have him evaluated by an OT for Sensory Processing Disorder. Our pediatrician recommended we visit Speech & Occupational Therapy of North Texas. We are so glad that we did!
The staff is wonderful and has gone out of their way to help us get the best therapy for our son. They work with our crazy schedule of being here for a few months and being away again. They have also allowed us to see multiple therapists at a time as needed to get in enough sessions while we are stateside. We have been pleased which each therapist our son has seen.
Our son LOVES going to therapy each week!! He loves all of his therapists, including Puzzle the dog. We love that we don't have to force him to go to the clinic. In fact, he often asks "Am I going to therapy today?" and gets excited when I say yes.
His therapists are available for questions via email, even when we are overseas, which is really helpful. Also, they give us great ideas for activities we can do at home to continue to help him grow. They are very professional but also encouraging, kind and fun people who really support our son.
He has only been in therapy for a year but we have seen huge strides in his development and speech. Speech & Occupational Therapy of North Texas has been a huge blessing to our family!
Alycia A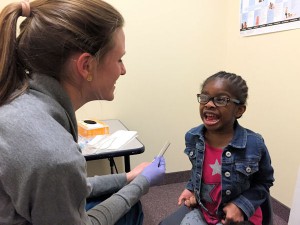 Our child began receiving services from Speech & Occupational Therapy of North Texas about two and a half years ago.  We researched several therapy centers seeking the best treatment for our child.  We have not regretted our choice.
The staff at Speech & Occupational Therapy of North Texas has an outstanding way of making our daughter feel comfortable and at home.  She knows several of the staff members by name due to her positive interactions with them.  She looks forward to seeing her therapist twice per week as is evidenced by her continued growth and development in both feeding and speech.  This has been a remarkable opportunity for our child to both learn and grow!
Eric Cockerham
Feeding Therapy – Frisco, Texas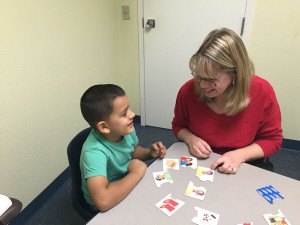 I am so thankful for all the support and help my son and I have received from Becky , Anne and their staff in the last 3 years.
My son has a speech delay and auditory processing disorder. I have seen so much improvement with his communication and behavior as a result of speech therapy.
I also appreciate the time they take to explain what was done in the therapy session and how they provide things we can work on at home to improve his speech.
Not only are they helpful with providing therapy but they also checked my benefits and provided great customer service.
Claudia R.
Plano, Texas
This is such a great place! The staff is very professional & have an amazing heart for those with special needs.
We've had a wonderful experience in the years my son has been in therapy here & he's made wonderful progress. I do wonder if he gives his therapist the urge to have a child, too, because we've had 2 leave to start their family; however, the transition has always been made smoothly with every accommodation to make sure he stays on track & continues to be successful.
I just can't say enough about how much we love this place. He wouldn't be as far along as he is without them! We feel blessed by their services!
Melanie W.
Wylie, Texas
Ms. Nancy is the best! My daughter loves her and has shown lots of progress since working with her this year.
Kimberly Hoff
Caroline has done an amazing job with my son. She not only worked with him in his session but also gave us fun games to play at home to reinforce the skills taught.
The office staff has been helpful and happy on each of our visits.
Thank you!! -Sheri Hay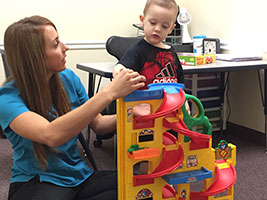 I am a mother of two children with special needs. Both of my children attend Speech and Occupational Therapy of North Texas. My oldest , who is almost 8 years old has been attending for almost 3 years. He has been doing OT with a therapist who has changed his life! He also had speech therapy for 2 years and made amazing progress.
My younger child who is just over 3 years old goes to the facility for speech therapy and he LOVES his therapist. He looks forward to his visits each week.
I have found all the staff supportive, caring , and invested in my 2 children. They are willing and capable of communicating to their families, schools, and any other staff that the children work with outside of the clinic. We have seen progression in their lives and a large part of thanks goes just to this clinic.
Lindy F
When my son started here at Speech and Occupational Therapy he was very late in his speech; almost 3 and still not talking. My boy is now 5 ½ years old and is able to speak in short sentences and is holding his own in Kindergarten. In OT he has become much better with his eye-hand coordination. The therapists here are very patient and genuinely care about the children that receive services here.
I highly recommend S and OT of North Texas.
Gail K.

Our OT from Speech and Occupational Therapy of North Texas is incredibly warm, professional and enthusiastic. My son is extremely attached to her!
It is amazing some of the activities that she can get him to do. Our OT is so creative and eager that she is able to keep my child interested, even if it's a challenging task. The services we have received from her have been very beneficial to our child.
Christine H
My husband and I have been extremely happy with the services our son, Brandon, has received from Speech and Occupational Therapy of North Texas.
The Staff at Speech & OT of North Texas have developed a special relationship with our son. They are nurturing, professional and we've seen excellent results. I would definitely recommend SOTNT to anyone seeking such important services for their child.
Alison & Warren H
Right before my son, Sam's second birthday, I took him to Speech and Occupational Therapy because I was concerned about his speech development. At that time, he was mostly non-verbal and he was frustrated that he could not communicate his needs and wants. As a parent, I felt helpless and was hopeful that speech therapy would help. I was literally amazed at his rapid progress with Becky. Not only did he begin to verbalize his thoughts, Becky and Sambut Becky went above and beyond to also help by creating tools he could use at home to help with his development in other areas like scheduling and behavior. It is now five years later and I can say with full confidence that Sam is a completely different child because of the special attention he has received from Becky. She seemed to know just what to do to help him succeed and he is now the most outgoing, social and talkative first grader I know!
Or family is forever grateful for the difference this has made not only for Sam, but our entire family. The lessons he has learned have been far greater than anything he could have learned in a larger school environment and the individual attention helped him enter kindergarten prepared for whatever new situations he would face. Thank you, Becky – and the whole team at Speech and Occupational Therapy of North Texas for helping Sam reach is full potential!
A. R.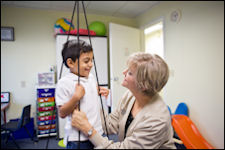 We are so grateful to Anne Bramlett and her staff for the success of our 5 year old son, Jonathan. He was diagnosed with autism about a year ago and Anne has been very helpful and patient with all of our questions regarding Jonathan's condition. He sees Anne for speech therapy and Midge for Occupational Therapy and we have seen a huge improvement in his speech and communication skills.
They use his interests to motivate him and therefore he has fun while he is learning. It is wonderful to be able to carry on a conversation with him and watch him converse with others. Before, he would get so frustrated and upset when people did not understand him that he would shut down. Now, with therapy, his behavior has also improved because he can express himself with intelligible words and multiple sentences. It was a blessing to find Speech and Occupational Therapy of North Texas because we know Jonathan will continue to improve.
Thank you Anne, Midge, and staff. Jonathan is really happy and loves you very much.
E.G.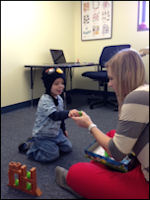 My 3-year old son, Aidan, has a serious speech delay, so we took him to Speech and Occupational Therapy for help. The staff is very organized. They got us in right away, tested my son, and immediately knew how to help him.
The company's founder, Anne, was his first speech therapist, and she did an excellent job. She established a relationship with Aidan and really motivated him to speak. I was amazed at how quickly he could speak intelligible words! Once she got him going, we switched over to Stephanie, who has been fabulous with Aidan. Both ladies used his interests to motivate him, and it has worked. They started with Toy Story characters, and moved on to Thomas the Tank Engine. Now they are using Angry Birds, Aidan's new obsession, to motivate him. Needless to say, we can all understand him now when he says "Bomb Bird" and "Bad Piggies". He speaks many words spontaneously, and is much more intelligible at this point. He has a long way to go, but we're confident that we're on the right course for him.
He is so happy at Speech and Occupational Therapy! Thank you!
Lisa C